Are your customers' jobs submitted as print-ready streamlined PDFs? Harlequin Direct gives you everything you need to take print-ready PDFs and then RIP, screen and stream them at maximum physical print speed directly to the head driver electronics. Harlequin Direct includes our award-winning PrintFlat™ technology to help take your device's quality to the next level.
Features and benefits
Multi-core and multiple PC, ultra-high-speed, massively scalable RIP solution
Instant first page out, RIP PDFs direct to your head driver electronics (no need for RIP ahead)
Get to market rapidly without huge software development expenses
Integration with any workflow and electronics
Includes Harlequin VariData™ to reduce the hardware costs for markets that mix static and variable data (Zoned Variable Data)
Includes PrintFlat and custom screen design service, raising inkjet quality to the next level
Meteor Ready
Easy to add support for extended gamut and duplex, with the choice of different configurations per printhead
No dependency on a third-party core RIP; we have our own
Accelerate market launch with BreakThrough service (Maximum up to 100% cost recoverable with future product royalty discount)
Fast product updates with bulletproof reliability
Cross platform, supporting Windows and Linux (Ubuntu and CentOS)
Optimized for Intel i9, Xeon and AMD Ryzen Threadripper CPUs
Specialized plugins for specific printer features (e.g. bar-splitting, inspection system)
Multi-core and multiple PC
Harlequin Direct can be configured in many ways: You can run all colors on a single PC, or one color per PC or group colors across any arrangement of PCs.
The Harlequin Direct pipeline is also very configurable, allowing you to tune how many threads each plugin in the pipeline is allowed. In jobs where the RIP is doing all the work, you may want to give it more threads and less to the screener.
Harlequin Direct is also cross-platform with Windows 10 IOT and Linux (Ubuntu and CentOS currently supported). Configuring the number of threads allocated to Harlequin Direct can also allow other programs to be run on the PC simultaneously (e.g. drivers for electronics).
Begin printing instantly
Start printing as soon as you have PDFs. Other solutions require RIPping to huge image stores ahead of printing to keep up with higher-speed and resolution devices. However, it means that you have a delay between receiving the PDF job and beginning to print.
Harlequin Direct can begin printing as soon as the first page has been RIPped. The first page out is practically instant whereas those solutions built on raster stores can wait hours (when the job has millions of pages) before starting to print.
Get to market rapidly
Developing a solution like Harlequin Direct with Global Graphics Software core components is possible and a number of our customers are in the market with those solutions now. However, it's a large investment and requires the help of a very experienced software development team. If your business is building and selling printers you may not want to get into software development or have the experience to set up the kind of team required. Even if you have the team, it would take many months, if not years, to replicate the capabilities of Harlequin Direct. In a few short months with Harlequin Direct and our BreakThrough services you could be in the market with a solution that can tackle any market you want to enter.
Integration with any workflow and electronics
Whilst we can drive Meteor Inkjet electronics out-of-the-box, Harlequin Direct has been designed to drive any electronics. We have already built plugins for a number of other industry standard electronics. Our Technical Services team can link to new hardware very quickly and it typically requires a 20-Day BreakThrough service. Our BreakThrough projects are recoverable against licenses as soon as you start shipping and are therefore effectively free.
Harlequin VariData™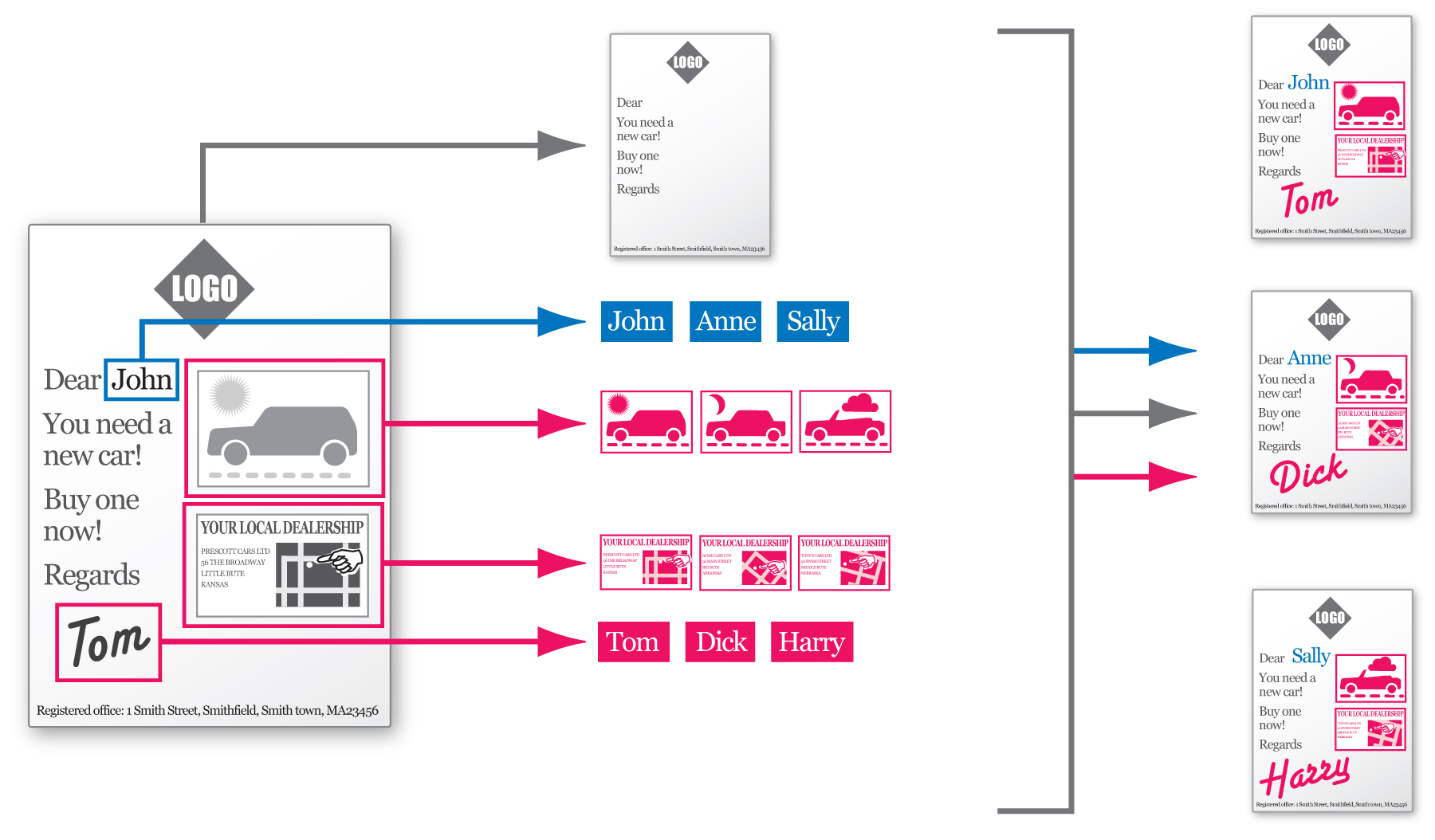 Harlequin VariData greatly accelerates the printing of zoned variable data jobs that were saved either as PDF/VT or as regular PDF. The variable data zones can contain text, barcodes and images. The content outside of the variable data zones is static and can be RIPped once whilst the data in the variable data zones is RIPped for every page. This greatly reduces the PC hardware required to RIP the zoned variable data PDF and keep up with the printer.
PrintFlat ™ and custom screen design service
| | |
| --- | --- |
| Before PrintFlat is applied. | After PrintFlat is applied. |
PrintFlat is our award-winning technology that corrects digital inkjet quality issues like head-to-head density variations and inkjet head smile. These attributes result in banding on the printed output which is very difficult to correct for in hardware (eg by tuning voltages). The PrintFlat technology is applied at runtime and can enhance the quality of the output without slowing down your device.
Meteor Ready
With the SmartDFE Workflow™ and Direct™ products you are instantly 'Meteor Ready' and can choose to use Meteor printhead driver electronics without changing your software. Meteor supports all major industrial inkjet printheads and offers rapid support for new printheads, so you have ultimate flexibility in your printhead choice: for example, you can begin your press development having chosen one printhead model and then switch to another with minimal impact to your development schedule. Or you can mix printheads from multiple vendors and models in a single press. You can even mix your own OEM printhead driving electronics with Meteor electronics to achieve the exact set of press characteristics you require. With this flexibility comes a comprehensive set of tools and services to deliver an exceptional product to market.
No dependency on a third-party core RIP; we have our own
We uniquely own all the source code in Harlequin Direct and this includes the fastest core RIP in the world (Harlequin). When you need to get the maximum performance out of any system, you must integrate all the components together tightly. You also need to have full access to knowledge about how each component works and how to get the best performance. You don't want a black box at your core; you want a transparent box where you can instantly open the lid and tune. No third-party components also mean you only have one roadmap to influence; we won't ever say to you that we are waiting on a supplier of third-party components.
Systems scales to support extended gamut and duplex
Assuming you are using one Harlequin Direct PC per printhead, adding support for extended gamut, spot colors or duplex is straightforward. Each printhead can be configured differently, such as higher bit depth for black or lower resolution for white or varnish.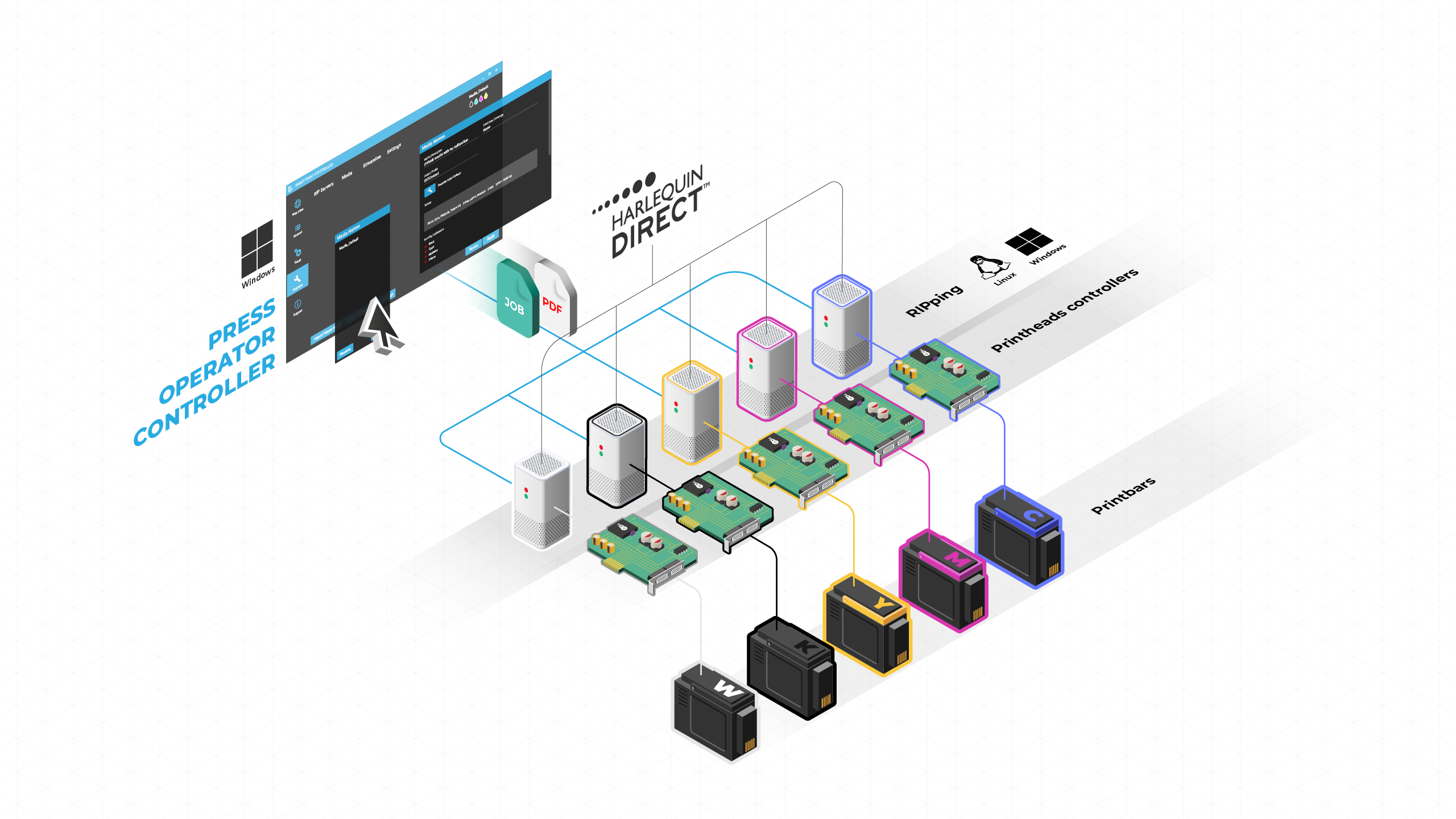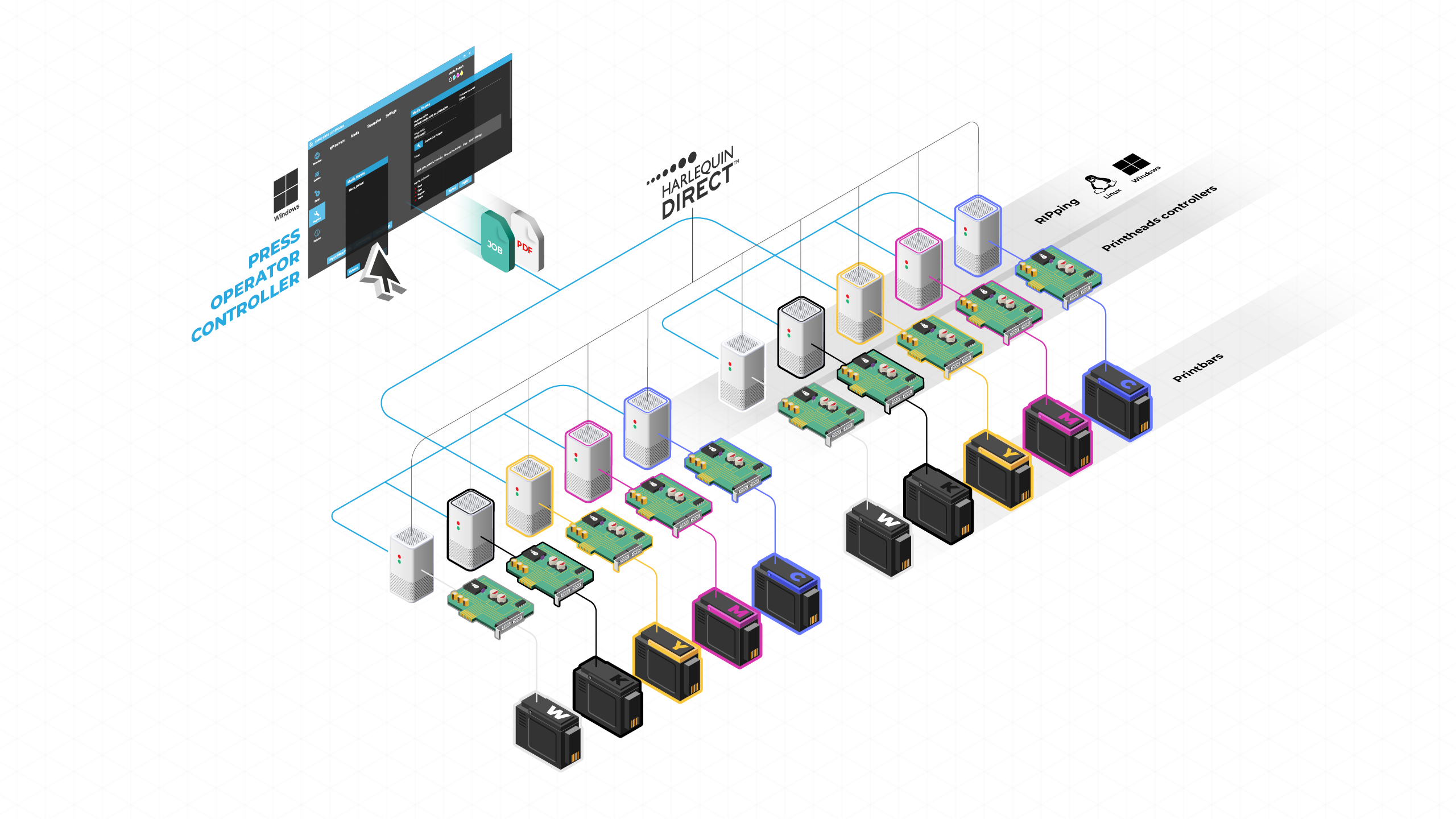 Adding another Harlequin Direct PC to the setup allows for direct connection to a vision system for quality inspection (DirectQI™). This Harlequin Direct streams RGB composite rasters to your inspection system on the fly, at the resolution it requires, allowing identical control over the production process for both print and inspection. This is vital to allow smart queueing of jobs, including reprints, with job order determined by the overall automated production system. Where the inspection system is operating further down the production line, looking for more than print issues, the rasters supplied by DirectQI could be modified to accommodate for this. For example, when printing direct to shape, the inspection system may have to distort the raster in real time to inspect the resulting product.
Accelerate to market with our free BreakThrough service
Getting a new printer to market is a huge engineering challenge, and you can always do with more help. Our business model is that we sell licenses of Harlequin Direct with each printer you sell. We share in your success, but that can only start happening when you get the printer finished and in the market. We therefore want you to get to market as quickly as possible. With our BreakThrough service you can add our engineers and scientists to your engineering team to get you shipping sooner. They can help break through any barrier slowing your route to market. You buy a block of days which is 100% recoverable against licenses as soon as you ship, making the service effectively free.
Will your customers' print jobs arrive from many PDF sources and creators? Do you need to support non-PDF formats? Not all PDFs are created the same. Streamline Direct will check each PDF, allowing your customer to reject any that are likely to slow your device down. Streamline Direct can also be used to streamline any problem PDF to achieve the same output quality whilst maximizing your device speed. If your market requires non-PDF formats, Streamline Direct can be used to convert many formats to print-ready PDFs.
Award-winning Harlequin Direct gives you everything you need to take print-ready PDFs and then RIP, screen and stream them at maximum physical print speed directly to the printhead drive electronics. Harlequin Direct includes our award-winning PrintFlat technology to help take your device's quality to the next level.
Learn more
Datasheets
White papers
Videos
Working with you
Here at Global Graphics Software we understand how difficult it can be to get started on your digital print journey, and so our Technical Services team is ready to offer free expert advice and help.
Dedicated experts in RIP and screening technology, principal software engineers and color scientists, all with decades of real-world experience, are ready to guide you through the process of selecting the right software components and then successfully implementing them into your press.
We pride ourselves on offering a personal, friendly service and work with you to ensure the fastest time to market.