STEPZ by HYBRID Software
STEPZ® is an award-winning labels and packaging composition tool featuring:
PDF editing
Designed for Labels & Packaging
No file conversions needed
Multi-Platform solution for OS X and Windows
64-bit multi processing and multi-threading
PDF is the industry standard. It's universal, secure and self-contained
Structured assets
Images, graphics and external links
Barcode creation and recognition
Page box definition and positioning
Nesting and Step and Repeat
Single application
One-up editing and Step and Repeat
Live Objects and variables for dynamic marks and ink eaters
Templates
Export die cut for toolmarking
Live Objects
Intelligent marks and info panels
Connect LIVE Objects to document content or external data
VDP for text, barcodes, external links
Define templates for dynamic document design
CLOUDFLOW by HYBRID Software
CLOUDFLOW® is an enterprise label and packaging workflow system that's installed alongside the Smart Print Controller in SmartDFE to create advanced workflows. It is a compact, modern, and modular system for running automated graphics production workflows on a private or public computing cloud. More than ever, your success is based on processing a larger quantity of smaller orders, with the same number of employees and equipment. This requires a new breed of automation tools.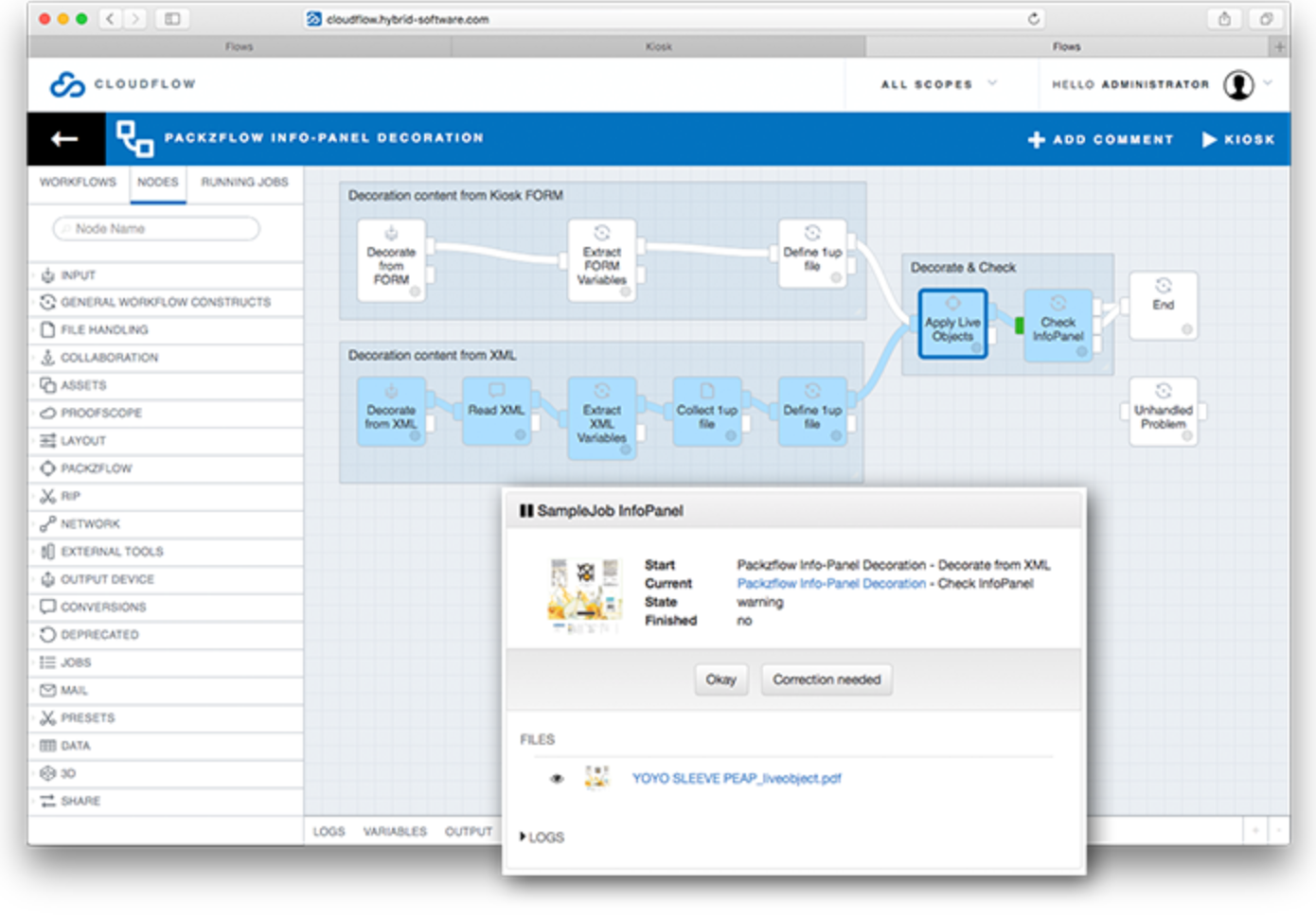 Prepress automation based on native PDF files
Unmatched speed: 64-bit multi-processing and multi-threading
Fully customizable workflows
Complete set of prepress functions, such as document preflight and correction, separation handling, barcodes, transformations, trapping, flattening and many more
Advanced Step and Repeat for labels, flexible packaging, folding cartons, spiral wraps, etc
Variable data processing
Creation of job info panels, slug-lines, bearer bars, etc
Job management
Presents job information in a graphical user interface
Automatic creation of job-related folder structure
Easy search and access to files in existing jobs
Execution of prepress and approval tasks based on job info
Call existing item or job for re-run with same or modified properties
Connectivity and data collection
Connection to MIS/ERP and other data sources
Generation and reading of XML or JDF
Compatible with all SQL databases
Data connector services
Data manipulation, such as XSLT translation (XML processing)
Order Lifecycle Management
Process management application for print production of labels and folding cartons
Job and item properties driven by existing ERP/MIS via standard XML or custom integration
Includes process and workflow templates for file management, approval, correction cycles, prepress, and step-and-repeat
Extensible and fully customizable using CLOUDFLOW´s Pagebuilder HTML editor
Multi-location service for files and license
Sharing files over regular internet instead of dedicated lines
Optimized synchronization of new and changed files on block level
File replication across multiple locations
Automatic distribution of file modifications
Synchronization driven by workflows or business process
Group-wide search capability on all assets
Workflow automation for 3D generation and viewing
Full HTML5 solution, no plug-ins required
High-res 3D viewing in the web browser
Seamless integration in workflow and approval processes
Automatic generation of 3D previews based on 3D models and PDF graphics
Built with powerful IC3D technology.